The Grand Challenges of Science Robotics
Date: January 10, 2020, 1:30-2:30 PM
Location: Moore B270
Speaker: Guang-Zhong Yang, Medical Robotics Institute, Shanghai Jiao Tong University
We have seen remarkable progresses in many aspects of robotics in recent years - from micro machines for biomedicine to large-scale systems for robotic construction, from robots for outer space to those involved in deep-sea exploration. We have also seen the evolution of soft robots and how new materials and fabrication schemes have led to deformable actuators that are compliant, versatile, and self-healing. This talk will outline the grand challenges of science robotics including new materials and fabrication schemes for developing a new generation of robots that are multi-functional, power-efficient, compliant, and autonomous in ways akin to biological organisms; biohybrid and bioinspired robots that translate fundamental biological principles into engineering design rules or integrate living components into synthetic structures to create robots that performs like natural systems. It will also cover power, robot swam, navigation and exploration, AI and BCI for the future advances of robotics. It will use the development of medical robotics as the exemplar to discuss the new challenges associated with increasing levels of autonomy and why it is important to consider associated legal and ethical challenges in addressing the technological roadmaps.
---
Guang-Zhong Yang
Founding Dean, Medical Robotics Institute, Shanghai Jiao Tong University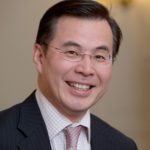 is the founding dean of the Medical Robotics Institute, Shanghai Jiao Tong University. He is also the Chairman of the advisory board, the UK-RAS Network (http://ukras.org). He was the founding director of the Hamlyn Centre for Robotic Surgery, Imperial College London. Professor Yang's main research interests are in medical imaging, sensing and robotics. He is a Fellow of the Royal Academy of Engineering, fellow of IEEE, IET, AIMBE, IAMBE, MICCAI, CGI and a recipient of the Royal Society Research Merit Award and listed in The Times Eureka 'Top 100' in British Science. Professor Yang is the founding editor of Science Robotics (http://robotics.sciencemag.org/) – a journal of the Science family dedicated to the latest advances in robotics and how it enables or underpins new scientific discoveries. He was awarded a CBE in the Queen's 2017 New Year Honour for his contribution to biomedical engineering.
Hosted by: Wei Gao