Microfluidics for Disease Diagnosis and Wearable Technology – From Bench to Bedside
Date: October 10, 2019, 4:00–5:00 PM (Social to follow)
Location: Annenberg 105
Speaker: Chwee Teck (C.T.) Lim, Director, Institute for Health Innovation & Technology, National University of Singapore
Microfluidics is a field that deals with the precise control and manipulation of fluids and micro-entities in very confined space of sub-millimeter scale. I will present a suite of microfluidic biochips that we have developed for the capture of circulating tumor cells for liquid biopsy, cancer diagnosis and precision therapy. I will also present another novel application - a soft microfluidic sensor as a wearable device for real-time health monitoring. Finally, I will share my entrepreneurial experience in spinning out several companies that are commercializing these microfluidic technologies. Ultimately, it is in their use that the society can derive the greatest benefits.
---
Chwee Teck (C.T.) Lim
Director, Institute for Health Innovation & Technology, National University of Singapore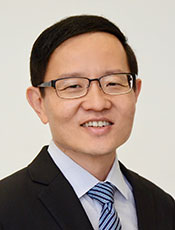 Professor Chwee Teck Lim is a scientist, innovator and serial entrepreneur. He is the NUS Society Chair Professor and Director of the Institute for Health Innovation and Technology at the National University of Singapore. He is also Director of the Singapore Health Technologies Consortium. His interest is in developing microfluidic and wearable technologies for biomedical applications. He has authored over 400 peer-reviewed journal publications. He is an elected Fellow of AIMBE, IAMBE and the Academy of Engineering, Singapore. Prof Lim has co-founded six spin-offs. He and his team have garnered over 100 research awards including IP Champion, IPOS-WIPO IP Awards 2019, Highly Cited Researcher 2018, Asian Scientists 100 2016, Credit Suisse Technopreneur of the Year Award and Wall Street Journal Asian Innovation Award (Gold) 2012 and President's Technology Award 2011.
Hosted by: Wei Gao