Optically Detecting Structure and Granularity in Tissues
Date: January 23, 2020, 4:00–5:00 PM (Social to follow)
Location: Annenberg 105
Speaker: Steven Jacques, Bioengineering, University of Washington, Seattle
Optically detecting abnormalities in biological tissues can find both constitutional changes seen with absorption, fluorescence and Raman signals, and structural changes based on the light-scattering properties of the tissue. This seminar discusses the use of light scattering to detect structural changes. Both local microscopic measurements and large-scale macroscopic measurements can characterize the sub-micron scale of structure in cells and tissues. Changes in hydration can alter light scattering, changes in collagen content and organization can alter light scattering. Light scattering is a useful contrast parameter for imaging structural changes in tissues, and can characterize the character of the structural changes.
---
Steven Jacques
Bioengineering, University of Washington, Seattle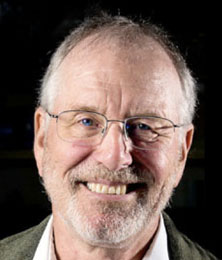 Steven L. Jacques received a B.S. degree in Biology at M.I.T., and an M.S. degree in Electrical Engineering and Computer Science and a Ph.D. degree in Biophysics and Medical Physics from the University of California-Berkeley. In 1983, he joined the Wellman Laboratory for Photomedicine at MGH, becoming a Lecturer in Dermatology/Bioengineering, Harvard Medical School. In 1988, he joined the University of Texas M. D. Anderson Cancer as Assistant Professor of Urology/Biophysics, and later as tenured Assoc. Professor. In 1996-2017, he served as Professor of Biomedical Engineering & Dermatology at Oregon Health & Science University. After two years at Tufts University in Boston, he is now an Affiliate Professor of Bioengineering at the University of Washington in Seattle.
Hosted by: Lihong Wang